ОСОБЛИВОСТІ ПОСТСЕДИМЕНТАЦІЙНИХ ЗМІН СОЛЕНОСНИХ ФОРМАЦІЙ
Ключові слова:
соленосні формації, літогенез, стадіальні перетворення, постседиментаційні зміни
Анотація
Розглянуті результати досліджень закономірностей постседиментаційних перетворень соленосних формацій. На основі аналізу процесів та факторів літогенезу, охарактеризовані особливості літогенезу соленосних формацій. Показаний інтегруючий вплив геодинаміки на їх стадіальні постседиментаційні перетворення. Запропонована типізація постседиментаційних змін соленосних формацій.
Посилання
Belenickaya G.A. Solenosnye osadochnye bassejny. Spb., 2000. Vyp. 4. 72 s. (Ser. Osadochnye bassejny Rossii).
Borisenkov V.I., Kudryavcev YU.E., Samojlov V.A. Geneticheskaya tipizaciya sul'fatnyh kalijno-magnievyh porod kak osnova dlya litologo-facial'nogo raschleneniya slozhnyh po sostavu solyanyh tel (na primere Stebnikskogo mestorozhdeniya). Fiziko-himicheskie zakonomernosti osadkonakopleniya v solerodnyh bassejnah. M.: Nauka, 1986. S. 141–152.
Halamai A. Fizyko-khimichni umovy formuvannia Badenskykh solei Ukrainskoho Peredkarpattia. Heolohiia ta heokhimiia horiuchykh korysnykh kopalyn — 2010. №2 (151). S.64–76.
Galogennye formacii Ukrainy: Zakarpatskij progib. Kityk V.I., Bokun A.N., Panov G.M. i dr. Kiev: Nauk. dumka, 1983. 168 s.
Garrels R., Makkenzi F. EHvolyuciya osadochnyh porod. M.: Mir, 1972. 395 s.
Gemp S.D., Dzhinoridze N.M., Raevskij V.I. Litologo-facial'nye i geohimicheskie problemy solenakopleniya. M.: Nauka, 1985. S. 48–59.
Griniv S.P. Litostratigraficheskaya korrelyaciya plastov kalijnyh solej Kalush-Golynskogo mestorozhdeniya. Litologo-facial'nye i geohimicheskie problemy solenakopleniya. M.: Nauka, 1985. S. 247–251.
Dzhinoridze N.M., Gemp S.D., Gorbov A.F., Raevskij V.I. Zakonomernosti razmeshcheniya i kriterii poiskov kalijnyh solej SSSR. Tbilisi: KIMS, 1980. 374 s.
Dzhinoridze N.M., Korin' S.S. Mineral'nyj sostav i fizicheskie svojstva solyanyh porod Predkarpat'ya — indikatory tektonicheskih dvizhenij. Dokl. AN SSSR. 1986. № 6. S. 1468–1471.
Dolishnii B.V. Hidrotermalna mineralizatsiia solianokupolnykh struktur pivdenno-skhidnoi chastyny Dniprovsko-Donetskoi zapadyny. Heolohiia i heokhimiia horiuchykh kopalyn. 2000. № 4. S. 56–61.
Іvanov A.O., Voronova M.L. Galogennye formacii (mineral'nyj sostav, tipy i usloviya obrazovaniya, metody poiskov i razvedki mestorozhdenij mineral'nyh solej). M., 1972. 328 s.
Kityk V.I. Solyanaya tektonika Dneprovsko-Doneckoj vpadiny. Kiev: Nauk. dumka, 1970. 203 s. 13.
Kovalevich V.M. Fiziko-himicheskie usloviya formirovaniya solej Stebnikskogo kalijnogo mestorozhdeniya. Kiev: Nauk. dumka, 1978. 100 s.
Kovalevich V.M., Sidor D.V. Mikrovklyuchennye uglevodorody v kamennoj soli Solikamskoj vpadiny i ih geneticheskaya informativnost'. Geologiya i geohimiya goryuchih iskopaemyh. №78. S. 89–95
Korenevskij S.M., Bobrov V.P., Suprunyuk K.S., Hrushchov D.P. Galogennye formacii severo-zapadnogo Donbassa i Dneprovsko-Doneckoj vpadiny i ih kalienosnost'. M.: Nedra, 1968. 240 s. 16.
Kudryashov A.I., Hod'kov A.E. Flyuidodinamika. Gornaya ehnciklopediya. M.: Sov. ehncikl., 1991. T. 5. S. 323–324. 17. Logvinenko N.V., Orlova L.V. Obrazovanie i izmenenie osadochnyh porod na kontinente i v okeane. L.: Nedra, 1987. 236 s.
Lukin A.E. Litogeodinamicheskie faktory neftegazonakopleniya v avlakogennyh bassejnah. Kiev: Nauk. dumka, 1997. 224 s. 19. Mahnach A.A. Postsedimentacionnye izmeneniya mezhsolevyh devonskih otlozhenij Pripyatskogo progiba. Minsk: Nauka i tekhnika, 1980. 200 s.
Mahnach A.A. Stadial'nyj analiz litogeneza. Minsk: Izd-vo BGU, 2000. 255 s. 21. Petrichenko O.I. EHpigenez ehvaporitov. Kiev: Nauk. dumka, 1989. 64 s.
Petrichenko O.I. O himicheskom sostave rapy yurskogo Preddobrudzhskogo solerodnogo bassejna. EHvapority Ukrainy: Sb. nauch. tr. Kiev: Nauk. dumka, 1985. S. 61–64.
Petrichenko O.I. Atlas mikrovklyuchenij v mineralah galogennyh porod. Kiev: Nauk. dumka, 1977. 182 s. 24. Ctrahov N.M. Osnovy teorii litogeneza. M.: Izdvo AN SSSR, 1960. T.1–3. 211 s. Шехунова С.Б. Halotektokinez v kamianii soli franskoi solenosnoi formatsii Dniprovsko-Donetskoi zapadyny (za litolohichnymy danymy). Tektonika i stratyhrafiia. Vyp. 34. 2005. S. 67–77.
Shekhunova S.B. Osnovni litohenetychni typy kamianoi soli solenosnykh formatsii Dniprovsko-Donetskoi zapadyny. Heol. zhurn. 2009. №1. S. 88–102.
Shekhunova S.B. Protsesy litohenezu solenosnykh formatsii. Heol. zhurn. 2009. №2. S. 97–111 28.
Shumlianskyi V.O., Derevska K.I., Dudar T.V. ta in. Litohenez i hipohenne rudoutvorennia v osadovykh tovshchakh Ukrainy / Naukovi pratsi Instytutu fundamentalnykh doslidzhen. K.: Znannia Ukrainy, 2003. 272 s.
SHutov V.D. Mineral'nye paragenezisy grauvakkovyh kompleksov. M.: Nauka, 1975. 112 s. (Tr. GIN AN SSSR; Vyp. 278).
YApaskurt O.V. Processy postsedimentacionnogo preobrazovaniya otlozhenij osadochnyh bassejnov. Osadochnye bassejny: metodika izucheniya, stroenie i ehvolyuciya. M.: Nauch. mir, 2004. S. 213–271.
Borchert H., Muir R.O. Salt deposits. London; Toronto, 1964. 338 p.
Bukowski K., Czapowski G., Karoli S., Babel M. Sedimentology and geochemistry of the Middle Miocene (Badenian) salt-bearing succession from East Slovakian Basin (Zbudza Formation). Evaporites through space and time. London, Geolog. Soc. Spec. Publ. № 285. Р. 247–264.
Cendon D.I., Ayora C., Pueyo J.J., et al. The chemical and hydrologycal evolution of the Mulhouse potash basin (France): Are "marine" ancient evaporites always representative of synchronous seawater chemistry?. Chemical Geology. 2008. Vol. 252. P. 109–124.
Edgell H.S. Salt tectonism in the Persian Gulf. Alsop G.I., Blundell D.J., and Davidson I. (eds.), Salt Tectonics. London, Geolog. Soc. Spec. Publ., 1996. № 100. P. 129–151.
Evaporites through Space and Time Schreiber, B. C., Lugli, S. & Babel, M. (eds). Geol. Soc. Spec. Publ.,. London,. 2007. №285. 470 р. 36. Gill D. Niagaran reefs of Northern Michigan. 1. Exploration portrait. J. Petrol. Geol.,. 1994. Vol. 17. P. 99– 110.
Holliday D.W. The petrology of secondary gypsum rocks; a review. J. Sedimentary Petrology. 1970. Vol. 40. P. 734–744.
Jowett E.C., Cathles I.L.M., Devis B.W. Predicting depth of gypsum degydration in evaporitic sedimentary basins. Amer. Assoc. Petrol. Geologist Bull. 1993. № 77. Р. 402–413.
Kendall A.C. Compaction in halite-cemented carbonates the Dawson Bay formation (Middle Devonian) of Saskatchewan. Canada. Sedimentology. 2000. Vol. 47. P. 151.
Kovalevych V.M., Peryt T.M., Carmona V., et al. Evolution of Permian seawater: evidence from fluid inclusions in halite. Stuttgard. N. Jb. Miner. Abh. Vol. 178. P. 027–062.
Laier T. and Nielsen B.L. Cementing halite in Triassic Bunter Sandstone (Tonder, southwest Denmark) as a result of hyperfiltration of brines. Chemical Geology. 1989. Vol. 76. 353–363.
Lewis S., Holness M. Equilibrium halite-H2O dihedral angles: High rock-salt permeability in the shallow crust?. Geology. 1996. Vol. 24. May. № 5. P. 431– 434.
Petrychenko O., Peryt T.M. Geochemical conditions of Deposition in the Upper Devonian Prypiac' and DniproDonets Evaporite Basins (Belarus and Ukraine). J. Geology. 2004. Vol. 112. P. 577–592.
Putnis A. and Mauthe G. The effect of pore size on cementation in porous rocks. Geofluids. 2001. Vol. 1. P. 37–41.
Senseny P.E., Hansen F.D., Russell J.E. et al. Mechanical behaviour of rock salt: phenomenology and micromechanisms. Int. J. Rock Mech. Min. Sci & Geomech. Abstr. 1992. Vol. 29 (4). P. 363–378.
Warren J.K. Evaporites: Sediments, Resources and Hydrocarbons. Springer, 2006. 1035 p.
Warren J.K., Havholm K.G., Rosen M.R., and Parsley M.J. Evolution of gypsum karst in the Kirschberg Evaporite member near Fredericksburg, Texas. J. Sedimentary Petrology. 1990. Vol. 60. P. 721–734.
Worden R.H., and Smalley P.C. H2S-Producing reactions in deep carbonate gas reservoirs — Khuff Formation, Abu Dhabi. Chemical Geology. 1996. Vol. 133. P. 157–171.
Worden R.H., Smalley P.C., Oxtoby N.H. Gas souring by thermochemical sulfate reduction at 140° C. AAPG Bulletin - American Association of Petroleum Geologists. 1995. Vol. 79. P. 854–863.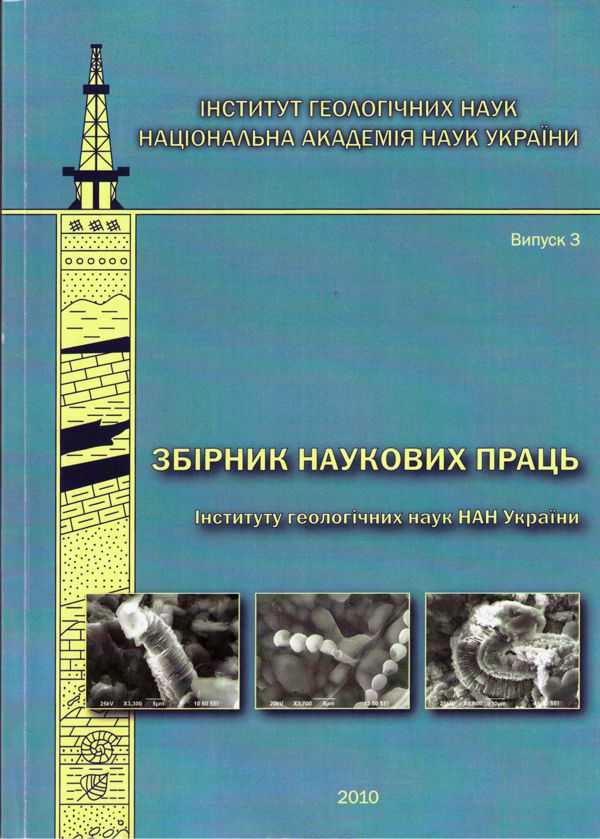 ##submission.downloads##
Розділ
РЕГІОНАЛЬНІ ПРОБЛЕМИ ЛІТОЛОГІЇ